Master 2 IAC: Ingénierie de l'Action Culturelle (Outreach project management in the cultural sector)
The Outreach project management specialisation of our Project and institutions management master's offers a complete training to build a career in outreach programmes. Our alumni now work as designers, administrators, managers, mediators, consultants and experts. This degree may be completed as a full-time study scheme or as a work-study scheme.
Educational director
Véronique Parisot
veronique.parisot@u-bourgogne.fr
Phone: +33 3 80 58 98 67
Secretarial office
Jean-Philippe THONY
jean-philippe.thony@u-bourgogne.fr
Phone: +33 3 80 58 98 34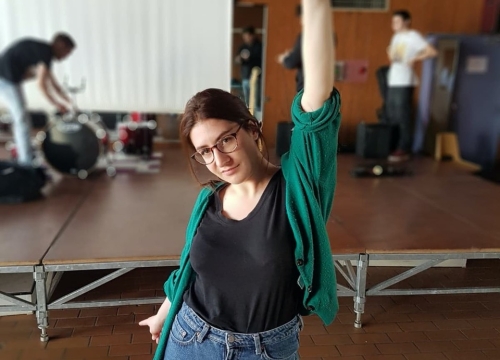 Building a career
Our schedule allows for a work-study scheme all through the year, to boost your career. Starting from mid-March, all students are required to complete an internship of at least 12 weeks, in France or abroad. The academic year ends with the writing and defence of a master's thesis with an examination board of at least two teachers.
Skills
Knowing the judicial, administrative, political, and economical environment of outreach initiatives
Understanding the potential of outreach in the arts sector
Understanding the potential of outreach in the heritage sector
Mastering the tools of management and administration of a cultural institution
Analysing the context of implementation of outreach initiatives
Analysing the context of reception of artistic creation
Designing and implementing outreach initiatives in the arts sector
Budgeting a project and creating partnerships
Knowing the distribution channels of artistic creation
Mastering communication tools in the cultural sector
Monitoring the administrative and financial aspects of outreach initiatives
Assessing cross-disciplinary outreach initiatives in the arts sector
Career opportunities
Project manager / Head of an institution in the cultural and creative industries or in heritage / Public engagement officer / Administrator / Arts department supervisor / Production manager / Distributor / Education officer / Project manager / Consultant
CHARTRES (28)
DIJON (21)
STRASBOURG (67)
ASS Promotion Arts du Cirque en Alsace
RAMONVILLE-SAINT AGNE (31)
AVIGNON (84)
Association de Gestion du Festival d'Avignon
CHÂLONS-EN-CHAMPAGNE (51)
MAISONS-ALFORT (94)
AVIGNON (84)
ROUILLAC (16)
DIJON (21)
SAINT-POIS (50)
Association R.O.C. en Baie
ST JACQUES-DE-LA-LANDE (35)
CHALON-SUR-SAÔNE (71)
DIJON (21)
Galerie/Appartement Interface
BEAUNE (21)
Hospices Civils de Beaune
PARIS (75)
La coopérative De Rue et De Cirque (2r2c)
MONTRÉAL-QUÉBEC (CAN)
Les escales improbables de Montréal
DOLE (39)
PORNICHET (44)
PERNAND-VERGELESSES (21)
LAVAL (53)
PARIS (75)
Ministère Economie et Finances
SAINTE-PAZANNE (44)
NEUILLY-SUR-SEINE (92)
PARIS (75)
The Walt Disney Company France (SAS)
NANTES (44)
AUTUN (71)
Ville d'Autun - Direction des Musées
DIJON (21)
DIJON (21)